A role-playing game regarding orchid hunting during the reign of Queen Victoria for 2 to 6 persons of fine repute inclusive of a Games Master requiring a deck of playing cards, 2 six-sided dice, & 6 pennies
Take on the mantle of a grizzled and hardy orchid hunter in 1865 and traverse the depths of unchartered territories in search of rare, elusive, and above all, expensive orchids for your shady employer, J. Carmichæl & Associates.
This 32 page zine provides a simple ruleset, expedition structure, and improvisation tools to help build an adventure of personal and horticultural discovery at the table.
Orchidelirum was part of Kickstarter's ZineQuest in 2020 and the remaining limited first editions can be purchased on itch.io alongside PDFs which are also available on DriveThruRPG. Once the first run are sold out I'll add a print-on-demand option onto DriveThruRPG too.
Digital files include character sheets, playing mat, and an expedition planner alongside the zine.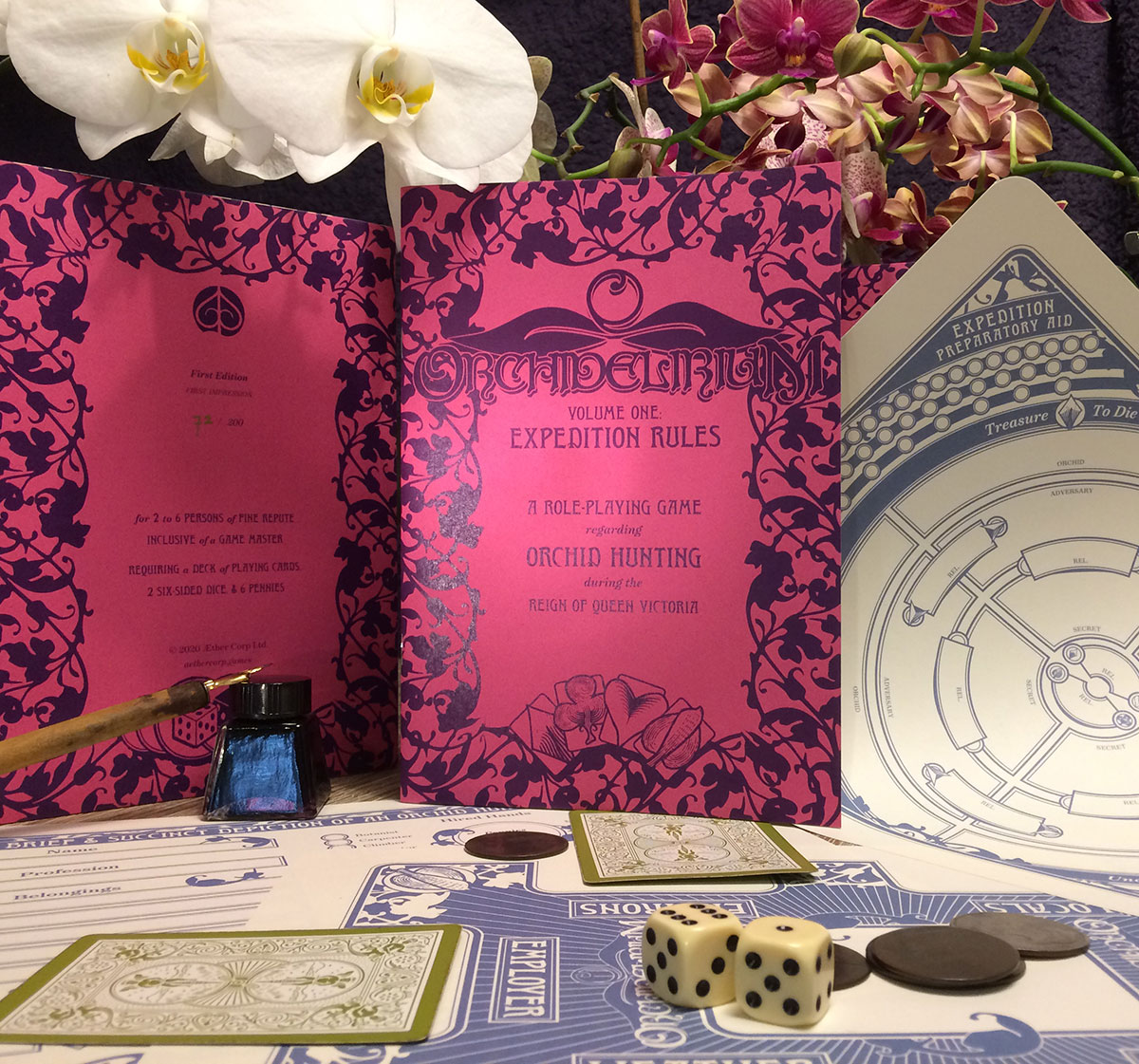 A Multitude of Thanks!
Orchidelirium would not have been possible without the support, assistance, ideas, and opinions of the following people (also my wife)...
Alpha Testers
Dave
Ed
Fern
Leyla
Leon
Keith
Beta Testers
Chloë
Dave
Fern
Jim
Leyla
Oliver
Rik
Rory
Ryan
Kickstarter Backers!
It would also not exist in its current incarnation at all without the support and engagement of the Kickstarter backers that include but are most certainly not limited to...
Abigail A'Kessler
AE Jonesy
Alexisaok
Alun Spencer
Andreas Sewe
Andromeda Taylor-Wallace
Andrzej Krakowian
Antslapper Williams
Aurelia Scordato
Aymeric Goutain
Bailey Gorman
Baldarius
Bleak Horizons Press
BobtheDM
Brad Gardner
Brendan Zachariah O'Donnell
Cadence Alvarez
Cameron Worrall
Carol Krank
Charles Bailey
Charlie Earl
Chris Bissette
Chris Jefferson
Christopher Justusson
Claire Gurman
Clay Gardner
Côme Martin
Daniel C. Barton
Danielle Costello
Dave Harrison and Angela Baughan
David Millians
Drew Behseresht
Dudgrick Bebins
E. Cano
Elayorna
ELF Vesala
Elgin Scott III
Elizabeth Munson
Emily Peterson
Evan and Sarah Edwards
flimking
frank martin
Franz Georg Rösel
Genevieve Martin-Picotin
George Sullivan
Griffin Post
Gustavo Rocha
Ido Magal
Isaac Betty
Jack Pullman
Jack Shirai
Jamie Frew
Jamie Wheeler
Jarbie
Jazmin Collins
Jimmy Rogers
John Eternal
John Hetherington
John Hoyland
John Power Jr.
John Taber
Jonathan "Buddha" Davis
Justin Spath
Katherine Harrison
Kelly Brown
Kyle Mulligan
Lady Aurelia Hazlewood
Leyla
Lilith Wozniak
Lina B.
Linda H. Codega
livelygold
Lucian Collier
Marsayus
Marshall Mowbray
Matthijs
Megan Scharlau
Mendel Schmiedekamp
Michael Hawkins
Michael Sandlin
Michael Schwartz
Michele "Snake" Gelli
Miguel F. Santiago Irizarry
Mike Nachtigal
Morgan Tupper
Mr. Bodewell
nanrin
Naomia Care, her dog Lola, and rabbits Milo and Smudge
Olivia Montoya
Owen and Oliver Davidson
Patrick Kirkner
Paul Czege
Porter Wiseman
Preston Treadwell
Rachel Bryant
Ramanan S
Ricardo Sedan
Richard Sands
Rick Ohnemus
Robert Carnel
Roger Rebisz
Sam Sussman
Samuel Mendez
Sarah Gouveia
Seeth
Seren Davis
shan ejackson
Spencer and Els
st. drogo
Stefanie Midlock
Susan
Tara King
The Freelancing Roleplayer
The Veith Family
Thomas Hausman
Timothy McGowan
Tracy O'Brien
Victor Wyatt
Violet Flohr
w. David Lewis
Will Munn
9th Level Games